Lillie Roadrunner, une pin-up des sixties au caractère bien trempé
It is in the spirit and in the continuity of his work Streamliner that 'Fane imagined Lillie Roadrunner. Sitting on her barrel, watching the horizon with a stopwatch in hand, this young pin-up seems to be accustomed to the surge of mechanical monsters and the roar of engines. She doesn't seem to lack character...
Illustrations from the STREAMLINER comic by 'Fane
A disused road in the middle of the desert, an old gas station, and dust in the distance...
When Billy Joe pushes the door of the O'Neil's, nothing will be the same. Leather, cowboy boots, rifle and Ford V8, the leader of the Red Noses is expecting people. What will become the greatest wild race of all time will take place here. A race, until death...
At the call of the most eminent gang in the country, dozens of "thugs" from the wheel and other speed freaks find themselves in the middle of the desert for a gigantic clandestine race whose winner will traditionally be elected "pack leader" for one year. Billy Joe, dark leader of the Red Noses, has set his sights on a small lethargic service station to put his title back into play. Its tanks full of fuel, its few "comfort" facilities, the hectares of arid tracks that surrounding, property of old O'Neil and his daughter, make it the ideal place... Unfortunately, this lost site, hitherto neglected by all, will soon be in the crosshairs of the authorities and the media... ...and the Station "LISA DORA" will become the scene of the worst slippages...
© editions Rue de sèvres
A figurine with a special meaning...
And if you're wondering why she looks furiously like the mascot found everywhere on this site, don't worry, you're not going crazy, it's indeed the same character!
Two versions will be available:
Lillie Roadrunner : Sitting cross-legged, hand on the ground, and scanning the horizon.
Lillie Roadrunner Aero Eastern : Still sitting cross-legged and scanning the horizon, but this time posed on a barrel of the company Aero Eastern, stopwatch in hand and chewing gum in the mouth!
A big Thanks to 'Fane for this piece which has a special value for us. (heart heart)
Find the singular trait of 'Fane thanks to the collection of Sketchbooks Comix Buro!
Available on the Attakus store!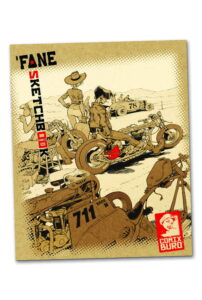 DISPONIBLE EN MARS-AVRIL 2022
Statue en résine d'une ravissante pin-up vintage, d'après une illustration de 'Fane